---

A brief description.
The camera systems:
Live streaming. Cam1, Cam 2 and Cam 3
There are three CCD cameras which transmit live TV all the time (24/7). Two of those are located in the tower at the Blue Box, cam 2 and cam 3. Cam 3 direction is towards south-west, and cam 2 direction is towards north-west. Another CCD cam, cam 1 is located in a tree at the upper station, 171 meter south-east from the Blue Box. The CCD cam used in all these three live stream cams are: Novus NVC-GDN5801C-2. They are analog CCD cams which have a sensivity of 0,00003 lux. With low light they change from colour to a black-and-white mode. The analoge video signals in cam 1, cam 2 and cam 3 are digitalised and sent to each Teradek Cube 200 device, which compress the video signals and send them to a streamingserver at Østfold University College. Links to these live videostreams do you find in the column to the left in the webpage you are now. The time in the lower left part is local time in Hessdalen, Norway.

The alarm systems.
The video alarm system is developed of our italian friends at The Institute for Radioastronomy. It consists of a Mintron MTV-12V6HC-EX cam (Italian cam), pointing towards mount Finnsåhøgda in the west. That analog cam is connected to a PC with Linux operating system, which is called "Soso PC": The software in this PC is called "soso", and it analyze the video signal from the Mintron cam. If something suddenly show up, an alarm picture and a short video sequence will be saved on the hard disc. The saved video start a couple of seconds before the alarm picture. Each morning are all the alarm pictures, together with the videos, transfered to alarms, on this web (http://www.hessdalen.org). This video alarm system are running from the afternoon to the morning. In the day time it is turned off. Each picture and video are named by the date and time, and it is the UTC time. (Not local time). Most of these alarms are from know natural sources. Now and then are these removed from this web. Now and then are also interesting alarm pictures and videos moved to "Pictures" you find in the left column.

There are also two alarm system developed by our german friends at the University of Würzburg. The alarm pictures and videos from their system, are sent to them. It is from German cam and German allsky cam.
Other equipments in the Blue Box: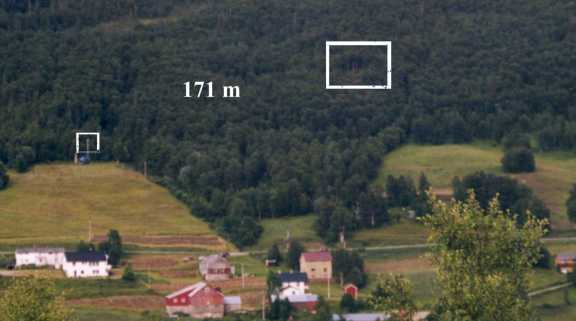 The Blue Box in the white border to the left, and the upper station in the white border to the right.