---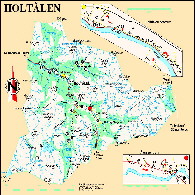 Hessdalen lies in the municipality of Holtålen, which consists principally of the villages of Ålen (the municipality's main centre) and Haltdalen. In addition there are the two mountain hamlets of Aunegrenda and Hessdalen. Hessdalen is approximately 10 km from the municipality's centre.
Holtålen, with its 1970 inhabitants, is situated in an area of outstanding natural beauty, and has much to offer that is of historical and natural interest, as well as hunting and fishing. The abundant animal life includes moose, reindeer and roe-deer. There is good salmon and trout fishing in the river Gaula, and the municipality boasts several excellent fishing lakes.
From November to April the area is under snow, giving excellent conditions for skiing in the fresh, clean air.
Even though Holtålen is tucked away in the mountains, the historical town of Røros is only 35 km away. From here there are flight connections to Oslo. It is about 120 km to Trondheim, the nearest city, from where there are frequent inland and foreign flights. Car hire is available at both airports.
The Main Road FV30 runs parallel with the railway through the municipality. From Trondheim, take the E6 south as far as Støren. At Støren turn o ff onto Main Road 30 (FV30) and follow the signposts to Røros.
There are buses to Holtålen from both Røros and Trondheim. It is also possible to take the train on the Røros line from Trondheim or Oslo.
Jan Moen - phone. 72416176, +47-90542062

Hessjøstuggu. Phone: +47-98804879

Kvila at Hessøen. Phone: +47-99320679

Birger Grønås - cottage in the middle of Hessdalen, mob. +47-91626305

Hilde Vårhus, mob: +47-95075601. - Visit Hessdalen.

Mining history
The municipality contains much that is of interest, in addition to the Hessdalen phenomenon. Holtålen has, amongst other things, a long history of iron and copper ore extraction. The last mine, Killingdal, was closed in 1986.

Remnants from the days of mining are still to be seen: e.g. Eidet Smelting Works, Leset Smelting Works, Killingdal mines and a number of primitive iron ore plants. As yet there are no regular guided tours of these places, but printed information is available, and people who wish to visit them are at liberty to do so.
Eidet Bridge
There is a preserved stone bridge at Ea Falls, which was completed in 1853. There are only two such bridges to be found in Norway.
Ea Falls
At one time there was a mill here, which was built long before 1800, but was still standing in 1882. Three large hand-hewn millstones remain, and remind us of the way in which our forefathers lived.

Egga Falls/Salmon Fishing
Salmon are to be found from the north-west borders of the municipality as far as Egga Falls. In the summer salmon can be seen leaping and jumping over the falls in order to come as high up the river as possible before spawning.
The Churches
The municipality has 3 churches: Haltdalen, Ålen and Hessdalen. In addition there is a chapel at Aungrenda. The present Haltdalen church was dedicated in July 1881. It replaced the old church from 1704. The oldest church in the village, however, was Haltdalen stave church which today is in Sverresborg Museum in Trondheim. The original church was built around 1170, and is thus one of Norway's oldest stave churches. The norwegian government gave a copy of this stave church to Island during their 1000 year celebration. It is located at Vestmannaøyar. A copy of the stave church is also build in Haltdalen, close to "the Old Farm". It was consecrated 2004 and is a popular place for wedding.
Gammelgården/The Old Farm
This was built in the 16th century as a Rectory. It is now owned by Holtålen municipality. The original farmhouse was added to on several occasions, and has now been restored as nearly as possible to how it was in the 18th century. The surrounding area has also been recreated as it was during that period, and includes a herb garden. The original herb garden contained species which are rarely to be found in this climate. The Old Farm is open for the sale of refreshments and arts and crafts etc. during the summer months and at Christmas time. Tel. +47 - 7241 6312.
Armfeldt's Military Campaign
In 1718 the Swedes tried to conquer Trondheim. Lieutenant-General Armfeldt's 7000-strong army had been unsuccessful and was marching back to Sweden. The army reached Haltdalen around Christmas time. They made the Old Farm their headquarters and the soldiers settled down in the surrounding district. December was especially cold that year and the soldiers were bitterly cold and starving. Morale was at a low ebb and they took all the farmers' food and clothing. As they continued their march over the mountains, the unusually severe winter took the lives of over 3000 soldiers. Excursions are now organised along the path taken by the soldiers.
The Company of Skiing Soldiers
In 1718 a company of skiing soldiers was established in order to protect the inhabitants from the Swedes. Even at this early date, skiing competitions with prizes were organised between the soldiers. These are the oldest recorded skiing competitions in Norway. Competitions were held in jumping, downhill with shooting, and cross country. They were arranged in order to keep the soldiers fit.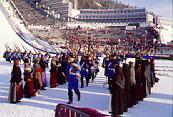 The company was re-established in 1993. Uniforms, weapons and skis are identical with those used by the original company. A number of farm girls accompany the soldiers. The group performs at many different types of shows, and may be booked for this purpose.
Summer farming


This is an agricultural municipality where summer farms are still in regular use. Some of these are open to visitors during the summer.
Museums
The municipality has two museums: Aalen Village Museum and Petran Museum in Haltdalen. Guided tours by arrangement.
Rugelråen
Rugelråen was formed during the last Ice Age. This narrow ravine with its precipitous sides up to 100 metres high, creates ideal climatic conditions for animal and plant life. People have settled here from the middle of the 18th century. This is a unique landscape which includes animal trapping pits, two crofters' cottages from c.1800, Råen farm, Råfossen, a waterfall with a drop of 30 metres, and a rich flora and fauna. Trips are organised here, during which we also gain an insight into the life and times of the emigrants to America.